You can choose MENU 【Customized course】 6 items 1980 yen !! [Tax excluded] with drinks and unlimited items +2000 yen
Course details
You can choose MENU 【Customized course】 6 items 1980 yen !! [Tax excluded] with drinks and unlimited items +2000 yen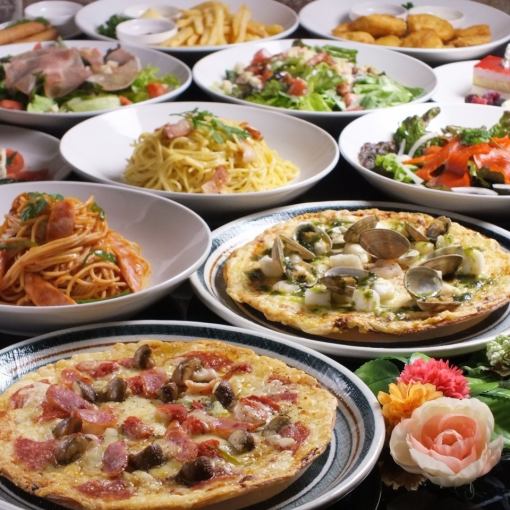 By using a coupon1980 yen
From coupon use 2490 yen to 1980 yen !! [Tax discrimination] 2 Hit all you free +2000 yen! 3 H drink all you can + 2500 yen !!
All-you-can-drink available

☆ Free drink content (2 hour system) LO 90 minutes
Reservation deadline

Until 14 o'clock on the day of visit to the store
Available days for reservation

Monday - Sunday - Public holidays - Holidays
Taste · quantity · quality, even the wallet is also very satisfied - even this - even 6! Popular course - Please feel all the handmade commitment by all means one item per item.It is the optimal course content to enter the lead role.To coupon use 2490 yen → 1980 yen! To the leading role desert plate is also required consultation !! First of all, please contact us !!
Course menu
HP exclusive! Selectable MENU [Customized course] 6 items 1980 yen! Content of [tax exclusion]
◆ Today's salad
[Caprese / Caesar salad / raw ham salad]
From one piece
◆ Today's Pizza
[Raw ham and asparagus / tomato with garlic mushrooms / anchovy and tomato with basil / seafood pizza / margherita / teriyaki chicken and onion pizza]
From one piece
◆ Pasta of the day
[Sausage's Peperoncino / Vongole Bianco / Western-style Napolitan / Carbonara / Mentaiko and Squid Pasta / Chef Special Meat Sauce / Fresh Basil and Tomato Sauce Sauce]
From one piece
◆ Appetizers & Appetizer
[Cheese 3 varieties / assorted salami / assorted sausages / 3 varieties of sausages / oven baked of potatoes and mushrooms sausages / banyakaeda of fresh vegetables / source of fresh fish carpaccio]
From one piece
◆ Deep fried food of the day
[French fries / chicken nugget / camembert fried fish / fish & chips]
From one piece
◆ Today's dessert
[Various cakes, various kinds of ice cream, today's sherbet]
Please choose your favorite dessert from the day one by one!
2H All you can drink +2000 yen! 3H drink all you can eat + 2500 yen !!
------- 【promise of wine bar Rasheed】 -------
I will offer you a cuisine that you can say "delicious!"
Second, because it's a classic cuisine, we offer delicious things.
Three, do not forget your affordable price.
Four, I will not forget your smile and energy.
-----------------------------
All-you-can-drink menu
·beer
·draft beer
·wine
· Glass wine
·whisky
·Highball
·Cocktail
· Cassis Orange, Cassis Oolong, Gin Tonic, Moscommeureur etc.
·Soft drink
· Various soft drinks
2018/12/05 update